City Pages "Comix Issue" -- Spotlight on Minneapolis Cartoonists
You've got one week to pick up your free copy of the
City Pages "Comix Issue,"
inside which you'll find comics from yours truly and Zander.
Thirty-some Minneapolis cartoonists submitted work for the issue. In the end, City Pages published ten artists in the print edition and many more in the
online edition
. The print version includes:
Ken Avidor
Matthew Kriske
Zander Cannon
Kevin Cannon
Michael Furious
Steven Stwalley
Andrey Feldshteyn
Kevin McCarthy
Curtis Square-Briggs
Bud Burgy
Zander and I were secretly hoping that they'd print our comics next to each other and lo and behold:
You can read the comics on City Pages website by clicking on the thumbnails below: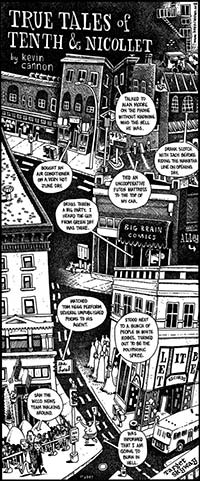 Happy reading!
Labels: Friends of BTA