MicroCon 2008: A Transformerative Experience!
Just wrapped up another successful MicroCon, MNCBA's yearly spring show. Although it didn't feel much like spring inside or out, everyone seemed in higher spirits than normal.
While Zander and I spent most of the show selling books and promoting
Lutefisk Sushi
, I took some time out to battle, defeat, and ultimately befriend a Decepticon. Unlike most of the phonies who come dressed up in costumes, this was the
real
Soundwave:
Speaking of Sushi, Ryan Dow made this awesome
iron-on Sushi shirt
. He bought the orange shirt and the iron-on kit at Target.
Speaking of DIY clothing, Matthew Kriske showed up in shoes that he had painted himself. He's got a
"name who's on my shoes" contest
going on at his blog. Contest or not, we're just glad Kriske's finally wearing shoes.
Speaking of Kriske, you can see his hilarious mustache story in the newly released "Muscles and Fights: Volume III." Bud Burgy and Amado Rodriguez printed up 10 copies through Lulu and will hopefully print up many more! I overheard some talk of Diamond's Coffee Shoppe hosting a M&F art show during Art-a-Whirl ... but you'll have to check the M&F
website
for more info. From L to R, Zander Cannon, Dank! (aka Danno), and Bud Burgy:
Bob Lipski (
Uptown Girl
), and Dan Olson (
Super Fantastica Comix
):
Steven Stwalley
setting up for the show. He spent half the show behind his booth and the other half rooting through bins and scoring cool old comics.
Curtis Square-Briggs
with his own score, the best comic book cover ever made: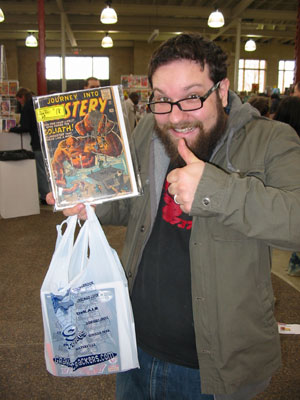 Finally, Kriske shows some gorgeous
Sam Hiti
sketches. Interested in learning comics from a master? Hiti will be teaching a comics course at MN Books Arts starting May 7. Not sure if there are spots left, but you can check out details
here
.
Labels: Conventions