San Diego Diary: Wrap-up
I'm back, I'm back!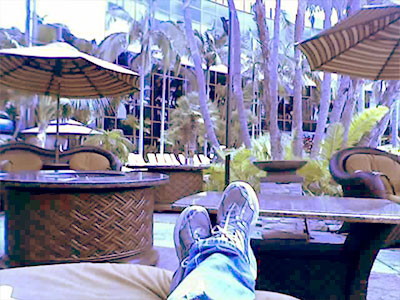 This is what I was seeing, while relaxing, post-con, at the Tiki Bar at the Marriott. My plane reservations kept me in San Diego for one day after the show, so I got to chill and think about stuff before rushing home and getting back to work.
Then a trip out to Coronado Island and lunch at the fancy hotel.
It was a fantastic show; lots of fun and I saw lots of friends, none of whom I apparently photographed during the weekend. I was pretty much bolted down to my table in Artists' Alley all four days (I had to get up early on Thursday to get my seller's permit at the California Board of Equalization, so I wasn't going to waste it), but you get to see a pretty good cross-section of humanity right there in front of you even if you don't move at all.
I ended up doing a lot of sketches, selling a lot of books and mini-comics, and talking to a ton of people, mostly telling them that there is a new Top Ten series coming out in October.
And I got a beautiful extra day in San Diego, too. Perfect weather, beautiful ocean; just one drawback as far as I could see:
Count your blessings, Minnesotans!
Labels: Conventions, San Diego 2008