4 DAYS UNTIL BIG FUNNY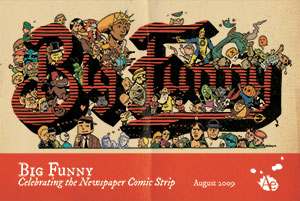 Hard to believe that it was well over a year ago when a few of the
Lutefisk Sushi C
curators sat down to ask the all-important question: "What's next?"
Well, what's next is
BIG FUNNY
-- the hybrid gallery show and 48 page comics section. The printed newspapers have been sitting quietly in a secret location on Quincy Street, with only a handful having been released to the media. The paper will be released to the public (for a measly $5) at the opening reception this
FRIDAY, AUGUST 7
.
So come down to the opening this Friday and join over
forty artists
and their friends and family, as well as the Roe Family Singers. In addition to the long-awaited newspaper, you'll be able to check out original artwork from the paper, century-old newspaper strips (thanks to Steve Stwalley!), and never-before-seen original work from cartoonist William Ede.
Plus, the first 70 people to buy a copy of Big Funny at the opening get
THIS
.
BIG FUNNY
in the media:
Labels: Big Funny, Lutefisk Sushi, Media Exposure