"A Time to Thrill" on Top Shelf 2.0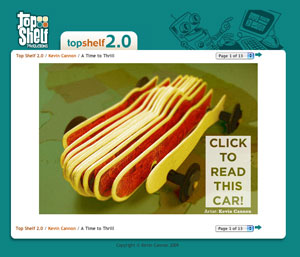 Pink Hobo
gallery is currently exhibiting a show of Pinewood Derby art cars. Unfortunately I missed the opening, but it looks like it was a ton of fun, as evidenced by this late night
race
and this eye-popping
portrait
. My contribution does not have moving wheels, unfortunately, so it had to sit on the shelf during the race. Or maybe Tim and Curtis threw it around like a football. I don't know. Anyway, playing off the ultra-cheesy theme that every car has a story inside of it, I decided to literally fill my derby car with a stream of consciousness mini comic, which you can read more about in the next paragraph.
"A Time to Thrill" is an automobile-themed comic strip I drew on eleven slabs of painted balsa wood. Unfortunately, when I joined all the slabs together to form a car-shaped sculpture, the world lost the ability to actually read the comic.
Until now.
Top Shelf 2.0 -- an online library of awesome mini-comics and serialized comics, updated daily -- has posted the
complete comic
! Go check it out! And then go check out the actual car at Pink Hobo in NE Minneapolis while the show is still running!
Labels: Online Comics, Pink Hobo