Influences: Wallace Tripp
I only have one book by Wallace Tripp, called "Wurst Seller", but I must have read it five hundred times.
This was before I had any sense of the variety of tools that a cartoonist used to create artwork, so what it was about his work that I liked was that, like other artists I've mentioned, he gave his characters and his illustrations a sense of weight and depth that made the world they were in seem that much more real. As a young cartoonist, I struggled with making my drawings seem three-dimensional, and any artist that could draw me into a panel like that got my immediate attention.
He also (and I appreciate this far more now than I did then) made economical use of his pen strokes-- using tight, controlled lines on the characters and important elements, and making more gestural shapes on background or inessential details.
But most of all I liked his ability to anthropomorphize animals and make them into interesting characters that were engaging without seeming forced, and resisted looking like the Disney and Disney-derived too-cute cartoon animal aesthetic. Like Bob
Clarke
Jones
(who famously drew the Exxon Tiger), Wallace Tripp's work had a certain reality to them-- more like caricatures of animals than cartoons, if that makes any sense.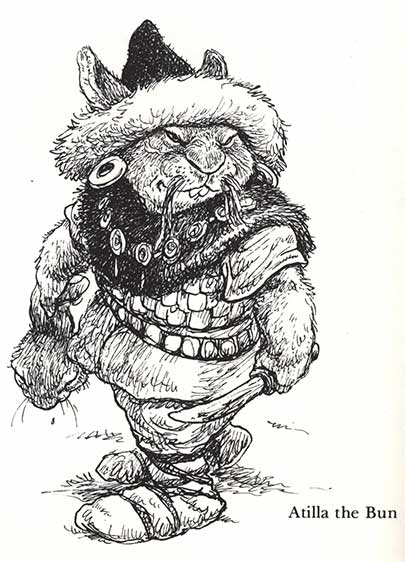 I subconsciously absorbed from his work a sense of line and shape, as well. The characters he draws are all derived from simpler shapes, and usually follow a strong, simple line in their motion.
I believe it was largely Wallace Tripp who gave me the sense of what it was that a cartoonist did as opposed to an illustrator (along with Bill Peet, the subject of a future influences page): to capture the essence of the subject, be unabashed about exaggeration where it serves the purpose of the drawing, and to CREATE the character on the page, rather than merely depicting it.
Labels: Influences