Influences at the New York Comic-Con 2007
Zander says: I'm at the New York Comic-Con this weekend, and I'll be updating with cell phone pictures of my influences that I meet at this show. The accompanying text will be brief, as I will be typing it on a numeric keypad.
Thanks to Kevin, who's posting all of these as I send them to him.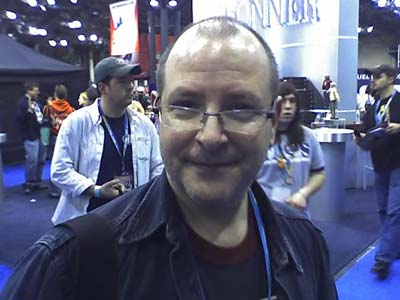 Mike Mignola

I ripped off Mike Mignola so bad when I was in high school. I did some 10-15 page stories that used all his most easily copied tricks (noses, chins, fists, lips, legs). They were really out of place in my style, but what can you do? I also completely aped his style when I did the background for the cover of Replacement God Vol. 2 Number 2. Thanks, Mike!

Bill Sienkiewicz


Jon Bogdanove


David Mazzucchelli
David Mazzucchelli is by far my biggest influence in the realm of storytelling-- I'd never met him until this convention. And meeting him made up for every hero of mine that turned out to be a dud or a jerk or who was too busy to talk. He was one of the nicest, most accommodating people I'd ever met, and articulated his thoughts on storytelling and illustration with an unpretentious air. He said that he had nearly finished a 300 page graphic novel, which makes me a little lightheaded thinking about it.

Feedback!


Feedback (Matthew Atherton) and I went to Grinnell College together in the 90s-- in fact, we met as prospective students while visiting the campus. He was obsessed with Spider-Man then, and would appear in full costume at practically every public event. He particularly liked cartwheeling into the dining hall on Parents' Weekend. Our senior year, he and I made mysteries for each other to solve (in costume, and often involving talking to professors at home), which he mentions on the "Who Wants To Be A Superhero?"


Kevin Maguire


Brian Bolland


Michael Golden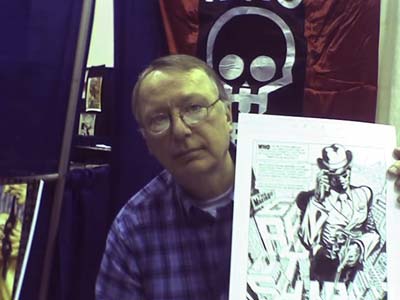 Rick Veitch

Jose Luis Garcia-Lopez


Rob Walton of 'Ragmop'


The show floor
Labels: Conventions, Influences