Three Ways to Help Promote BIG FUNNY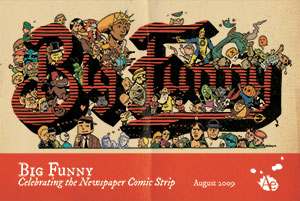 Click to bigify
While the
Big Funny
newspaper is off at the printers, we've been busy gearing up for August's show at Altered Esthetics gallery. You won't want to miss the show, as it will feature (huge) original artwork from the newspaper, actual turn of the century Sunday strips, videos of the newspaper printing process, and original burned printing plate from our printer.
If you want to help spread the word about the Big Funny show, please download this press release and send it to all your friends (especially your media friends):
Click to download
Also, stop by
Altered Esthetics
later this week to pick up a stack of postcards to spread around town.
Finally, if you haven't already, why not be Big Funny's friend on
Facebook
? And while you're at it, RSVP for the opening on the BF
opening reception
event page.
See you on August 7!
Labels: Big Funny